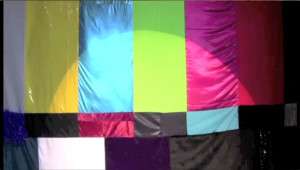 This is Not a Test
2012, 00:30 minutes, colour
"This is Not a Test" encourages viewers to step beyond passive consumption and traditional media, by preparing them to view video coming to life.
Rendered from textiles of varying textures, the homemade colour bars in this video literally materialize the familiar SMPTE test pattern used to adjust and calibrate NTSC video monitors. As the curtain of bars undulates in the breeze, the artist imitates the one-kilohertz audio tone that serves as its audio accompaniment.
A spotlight centred on the SMPTE test pattern reminds viewers of curtains being used to introduce a more traditional show, paralleling the use of SMPTE colour bars to introduce a traditional video.
         To view, rent or purchase, please contact
Vtape
.
This is Not a Test was first created as an installation that appeared at the Museum of Contemporary Canadian Art (2012). The video has been screened at San Francisco MoMA (2013), the Images Festival (2014), The Rebels with a Cause Film Festival (2013), Oakville Galleries (2015), and on all Air Canada Flights through the Images Festival (2015.)