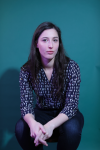 Whether through video, on a canvas, a performance, or an installation, Marisa Hoicka creates narrative paintings that come to life. She integrates paintings, compelling tactile elements, performance art, interactive video and other electronic media.
Hoicka's film "Sisters", will have its world premiere at the International Film Festival Rotterdam in January 2023. Her film, "This is Not a Test", was shown on all Air Canada flights as part of the Images Festival's "Stitches in Time," as well as in Berlin's Galerie Kurt Im Hirsch, San Francisco's MoMA, Oakville Galleries and across Canada. She has exhibited at the 7a*11d International Performance Art Festival, Power Plant, Museum of Contemporary Canadian Art, Department of Canadian Heritage, Toronto Dance Theatre, Eastern Edge Gallery, Dancemakers and the Art Gallery of Ontario for Nuit Blanche. She has participated in residencies with the Images Festival, the Sirius Arts Centre in Cork, Ireland and the Doris McCarthy Artist Residency.
Hoicka has received several Ontario Arts Council grants and a visual art grant from the Canada Council for the Arts. She has a Master of Digital Media from Ryerson University and a BFA in Studio Arts from Concordia University. Her video work is distributed by Vtape.