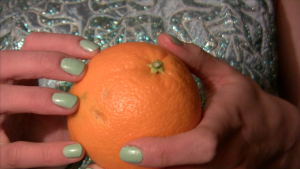 Solo Night Stand
2015, 12:08 minutes, Colour, No language
Set after hours in the glow of street lamps during a hot and sweaty urban summer, Solo Night Stand (2015) goes from hunting for the party to creating your own party and embarking on a physical search for carnal self-discovery.
The viewer is taken on a sensual trip that includes bike rides, dancing, tactile elements and touch.
This performative narrative is full of unexpected surprises that sweep you to strange, tender and comedic places that make you re-evaluate the everyday.

To view, rent or purchase, please contact Vtape.

The artist would like to acknowledge the support of the Canada Council for the Arts and the Ontario Arts Council.