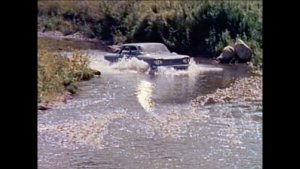 Sisters
          2022, 2:27 minutes, Colour, English
Sisters run wild when an incident unveils how their paths will diverge. This ethereal film, created using archival footage, composes a fresh narrative that eerily subverts past expectations.
Sisters had its world premiere at International Film Festival Rotterdam 2023. It has since been screened at Flatpack Film Festival in Birmingham, UK, Guanajuato International Film Festival in Mexico, the Vancouver International Film Festival, Antimatter Media Art Festival in Victoria, Canada, the Uppsala Short Film Festival, Sweden and is in the education collection at the Eye Film Museum, Amsterdam. 
To view, rent or purchase, please contact Vtape.
Sisters is commissioned and supported by the eCampusOntario -Virtual Learning  Strategy, York University, and the Ontario College of Art and Design. It was created as part of Hoicka's new online courses, available to Ontario university students, teaching how they can learn to edit and colour correct their video projects.



   Virtual Learning Strategy